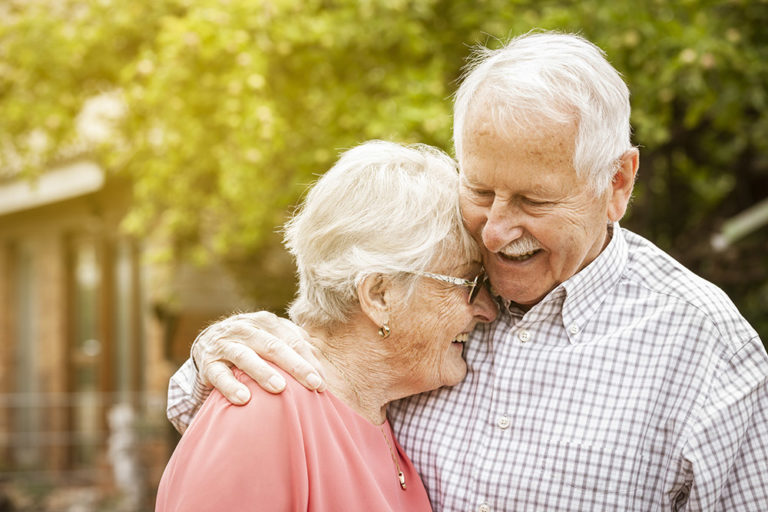 Alzheimer's Disease Research
Alzheimer's disease is believed to be a neuroinflammatory, neurodegenerative condition, characterized by progressive deterioration of cognitive function and loss of short-term memory and executive function.
Historically, the formal diagnosis of Alzheimer's disease as a specific form of dementia has been dependent on the presence of extraneuronal amyloid beta (Aβ) plaques, which had only been able to be confirmed if an autopsy was performed. Advances in brain radioimaging techniques have allowed the presence of Aβ plaques to be discovered in people being evaluated for dementia, but these types of brain imaging are not yet part of the typical standard of care. 
More recently, health authorities have approved tests that can quantify Aβ in the brain or blood, and these kinds of assessments have been helpful in supporting the prospective diagnosis of Alzheimer's Disease in clinical trials, and in defining response to Aβ targeted therapies in the context of signs and symptoms of various forms of dementia. We are thankful that results of the scientific community's focus on Aβ have led to the development of targeted therapies, but we also believe that more can be possible.
BioVie believes that inflammation is central to the development and progression of Alzheimer's Disease. BioVie's different approach focuses on our novel molecule, NE3107, currently being studied in people diagnosed with Alzheimer's Disease, and the hypotheses that selective modulation of inflammation, and the enhancement of energy transfer (insulin sensitivity) in the brain, may be able to improve memory and thinking, and may protect against neurodegeneration. Perhaps, if our studies are successful, NE3107 may be able to provide future benefit to the millions of people diagnosed with Alzheimer's, as well as to the families, friends, and professionals who care for them.
Learn more about a unique opportunity for your loved one to take part in an Alzheimer's disease clinical trial today.
Pathology and Physiology Overview
Alzheimer's disease (AD) is one form of dementia, and it is believed to be a neuroinflammatory, neurodegenerative condition, characterized by progressive deterioration of short-term memory and problem-solving ability. Disease onset is generally observed after 60 years of age, although there is evidence that disease processes may actually begin decades before noticeable symptoms are observed.
Because there a numerous potential forms of dementia, the formal diagnosis of Alzheimer's disease as one particular type of dementia has historically been dependent on the presence of deposits (plaques) in the brain made of amyloid beta (Aβ), a protein involved in neural growth. However, Aβ plaques can also sometimes be found in people without apparent AD symptoms, and AD-like dementia can also occur without Aβ plaques. These observations have led to healthy scientific debate about the role of Aβ within the overall context of AD pathology. Hence, the question of what initiates AD has not yet been fully settled. Nonetheless, there is a large and increasing scientific literature supporting the concept that inflammation, in concert with insulin resistance, metabolic dysregulation, and stress may play a pivotal role in the onset and progression of AD. This metabolic inflammation "theory" of AD recognizes the contribution of diverse elements to the disease process, with inflammation having a central role.
Data pointing to the confluence of inflammation and insulin resistance in dementia is fueling an interest in developing therapies that target metabolic dysregulation in AD.
Targeting inflammation may hold the key to unlocking new advancements in Alzheimer's disease therapies
NE3107 has shown promise for Alzheimer's Disease:
Growing body of evidence shows the potential for reducing neuroinflammation in Alzheimer's
Additional key benefit of NE3107 is the potential to reduce insulin resistance
Potential for positive safety profile based on pre-clinical studies and the safety and tolerability of NE3107 in clinical trials to date. Data on file.

The most commonly observed event has been headache (11%) versus placebo (10%). Other possible side effects may include increases in blood glucose levels or cholesterol levels, and decreases in blood calcium levels or blood sodium levels. This is not a full listing of all possible observed events. There also may be unknown or unexpected adverse effects or side effects from the drug.

Pivotal Phase III study has been initiated
NE3107's mechanism acts on the fundamental inflammatory signaling pathways that we believe to be at the root cause of Alzheimer's and other neurodegenerative diseases. NE3107 selectively inhibits the inflammatory ERK signaling pathway that reduces neuroinflammation by inhibiting inflammation-driven insulin resistance and major pathological inflammatory cascades.
Because both inflammation and insulin signaling are thought to contribute to dementia in Alzheimer's disease, BioVie believes that our clinical trials may show that NE3107 has the potential to slow the progression of Alzheimer's disease, and that it may improve cognition and function related to activities of daily living.